Welcome!
Creaky Lantern Games is an independent video games studio. We made Aeternum, a side scrolling bullet hell cute-em-up. We're working hard on following that up with a bunch of projects including an arcade inspired vertical shmup called Glory Gunner. But COMING SOON the official game based on the movie based on the one and only 80's action vigilante STREET CLEANER in Street Cleaner: The Video Game.
Back Street Cleaner: The Video Game on Kickstarter!
Be a part of STREET CLEANER history!
Now is your chance to own one of the physical editions of Street Cleaner: The Video Game and it's accompanying sound tracks! Not only can you get the game DRM FREE for PC, but this is also the way to get BOTH new STREET CLEANER albums: The Street Cleaner: The Video Game OST of all original NES accurate chiptune music, AND the Music From and Inspired By album of full-on STREET CLEANER brand heavy darksynth.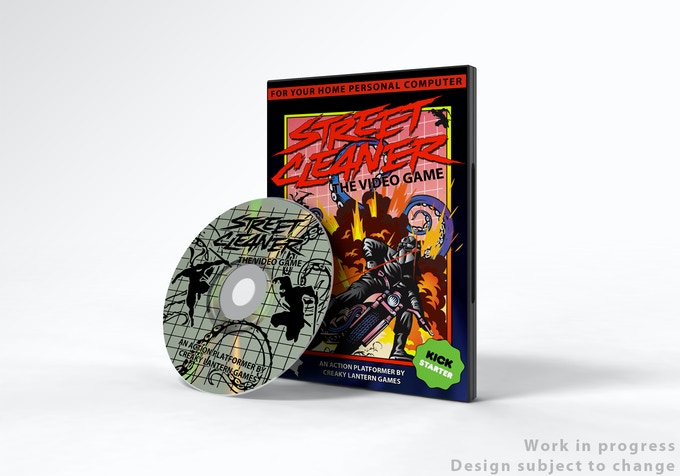 Also, don't forget about the official Street Cleaner: The Video Game game guide, full of original art, maps, hints, tips, and exclusive behind the scenes info you won't find anywhere else!
(This campaign is purely to produce physical editions of the game. The game is on track and will be finished independent of how well the Kickstarter does!)
BACK NOW!

Chat with us on Discord!
Come hang out with the Creaky Lantern Games devs, and the Street Cleaner himself on our Discord server! Talk games, wrestling, synthwave, all that fun stuff.
Join the Creaky Lantern Discord Server
Projects
Aeternum Out now on Steam
Harriet Fortune: Glory Gunner In development
Street Cleaner: The Video Game Coming soon!